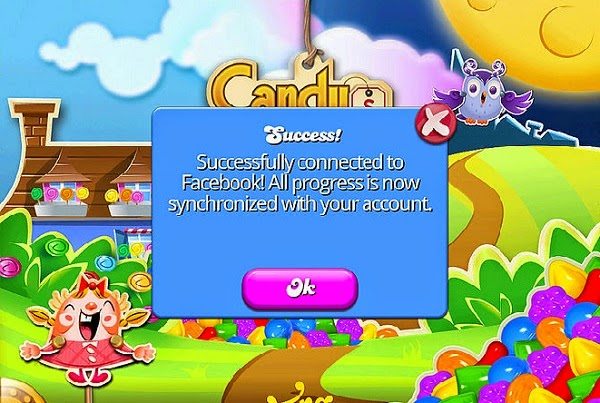 While syncing the Candy Crush Saga game to other device, you see error named as "Sorry, You Don't Have Access to the Kingdom Right Now in Candy Crush Saga" then this article is dedicated to you, as I will show you how to get rid from this message and succssfully sync the game.
Candy Crush Saga is one of the most popular puzzle games which is played by users all over the world. The good thing about this game is that you can play this game on Facebook for web, also if you own any Android or iOS device, you just need to connect your Facebook account with the game which sync all your account progress to device. Now when you're on computer you can play it on Facebook, and continue playing the game installed on your smartphone.
No doubt, its one of the best game I love to play, but there is one thing which disturb me a lot i.e Sorry, You Don't Have Access to the Kingdom Right Now in Candy Crush Saga" this error sometimes become sweat of my forehead.I never saw this error in my life, but one day I got stuck on level 742 and to clear this level I decided to cheat the game (by changing date and time, and clear cache) so that I can get free unlimited lives in Candy Crush Saga to play the game back to back until my level get clear. After playing a same level for more than 28 time, I finally cleared it. I felt its enough gaming for the day as I was playing the game for more than 3-4 hours, by keeping this thing in mind I decided to sync all the game progress on my device.
I started getting message i.e. Sorry, You Don't Have Access to the Kingdom Right Now, and I was like ahhhhhhh! Even uninstalled Candy Crush Saga and Facebook from my Android phone and tried again, got nothing but the same message.
After countless trial and errors, I had just found-out a method which works perfectly! The Candy Crush application installed on my mobile phone is now able to connect to Facebook.
I know like me there are lots of users who are looking for solution to same problem, by keeping all of them in mind I decided to share all the method which you can use to fix this error.
Fix Sorry, You Don't Have Access to the Kingdom Right Now in Candy Crush Saga
Fix One
Try switch between your Cellular Data and Wifi and try to connect the game with Facebook account. In most of the cases doing this little you can fix this error. If this didn't work. You can follow the next one.
Fix Two
What you need to do is just uninstall the Candy Crush Saga application from your Facebook account. But be careful, there are 3 ways to do that and below I'm going to share all of the three i.e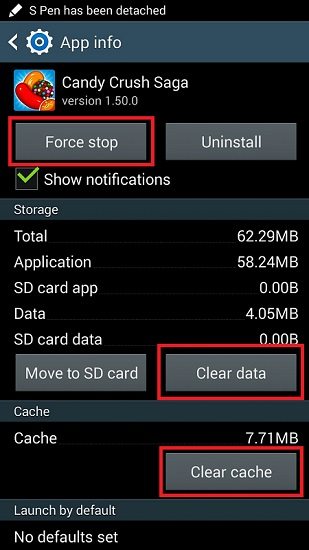 First Method:
1. Just head over to "Settings", and tap to open "App Manager."
2. In app manager scroll till you see Candy Crush Saga application installed in it.
3. Here you need to "Clear cache" and "Clear data", also you need to "Force stop" this application.
4. Once you followed above steps, just try to connect Candy Crush Saga for Android with your Facebook account.
Second Method:
1. You need to open the Facebook account on desktop.
2. After that click on "Home" button which is available at the top right sidebar.
3. Now click on "App" option on the left side of the page. Here you will see list of all the apps and games you use or play, scroll down and navigate till you find Candy Crush. Or visit here directly.
5. Click on "Settings" for the Candy Crush Saga application.

6. Click on "Remove app" There is no need to select "Delete all your Candy Crush Saga activity on Facebook", the method will work in any case. Don't worry, all your progress in the game won't be lost.
7. Download Candy Crush Saga application and open it on your Android phone and try to connect to Facebook. I'm sure, it will work.
Alternate Method: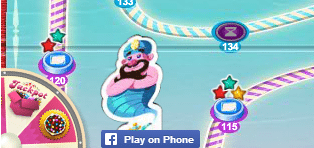 1. Just uninstall Facebook and Candy Crush Saga Application from your device and reinstall it.
2. After that, go to CCS on the computer/ laptop and in lower left corner hit "Play on Phone". Now you will get notification on your mobile device.
3. Just open that link and start playing the game. This time game will sync with your Facebook account, plus no data will be lost and you'll be on the same level.
So these are some of the best methods that fix the issue. Enjoy, I hope it will be applicable for your device as well. Happy Crushing! Don't forget to share your thoughts 🙂