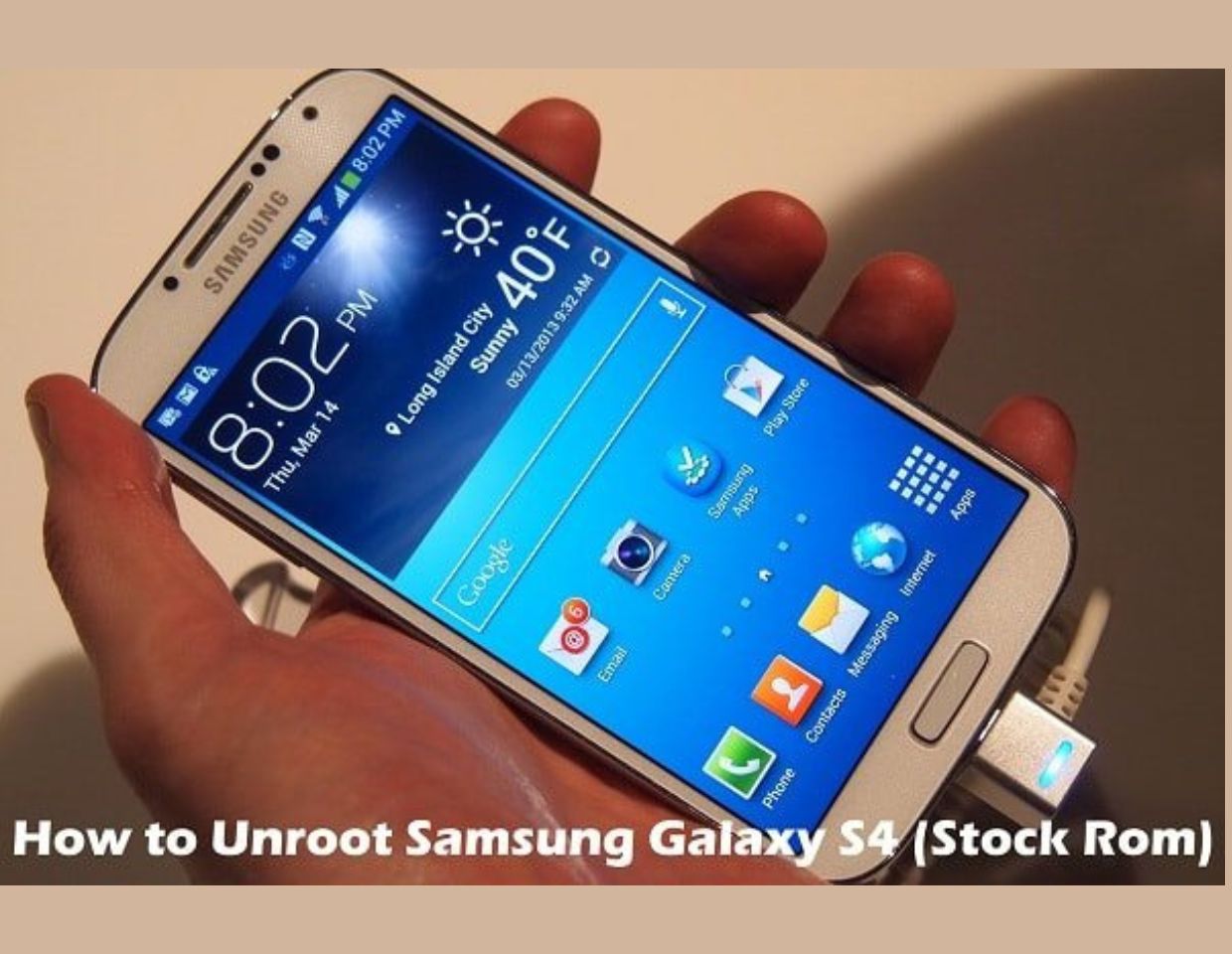 If you're the proud own of any Samsung Galaxy S4 device and rooted it using Motochopper or any other method, and due to some reason you would like to unroot it to reclaim the warranty of your device, then this article is dedicated to you.
Samsung Galaxy S4 is one of the most popular Android phones which comes with lots of cool features. It has 5 inches Super AMOLED capacitive touch-screen with 13 PM camera powered by 1.6GHz processor with 2GB of RAM.
It's amazing features makes the life simpler, richer and provide you more fun. To take most out of it, lots of users rooted this device. But after rooting this device majority of also decided to unroot the device so that they can reclaim the warranty of the device which they lose after rooting the Galaxy S4.
Like rooting, unrooting process for any device is very easy you just need to flash the official firmware and reset the flash counter to 0 and you're done. But for some users, this process may be like nightmare.
For these users, make the unrooting process easier, I decided to share a step by step guide that will guide you how to unroot and restore back to official stock firmware for Samsung Galaxy S4 GT-I9505 and GT-9500.
Before you start reading the steps, I would like to give all the credit to XDA Senior Member Samresh72 for sharing this unrooting guide for Samsung Galaxy S4
So without wasting any time, why don't you start checking the tutorial:
Disclaimer : "You're unrooting your Samsung Galaxy S4 using this guide at your own risk, if something goes wrong What's With Tech? will not held resposible for anything happen to your device.

If you follow the guide the way I shared in the steps, I gurantee you will be on the safe side. Why don't you read about What is Rooting & Unroot your Android Phone Means"
Things to Keep in Mind:
Make sure you to install Samsung Galaxy S4 USB driver on your PC. One of the easiest ways to install the driver is using Kies.
Don't forget to enable USB debugging mode, by default it's disabled.
Maintain 70-80 percent of battery charge on your Galaxy S4.
Your device must be factory unlocked. (If you've locked phone you need to flash carrier firmware to protect the device warranty)
Backup all the important data, photos, phone logs, SMS and other related data available in phone memory. If something goes wrong you can easily recover using that backup.
Make sure Kies is not running on your desktop. Also, try to disable antivirus program, till the process is going on.
Note: Again, I would like to tell you that, this guide will only work on Samsung Galaxy S4 variants GT-I9500 and GT-I9505. So it's a request don't try this guide on other devices.
Steps on How to Unroot Samsung Galaxy S4
1. First of all you need to download the latest version of ODIN
2. After that reboot your device into "Download Mode". For that, you need to press and hold the Home button + Volume Down keys together for a few seconds followed by Power button.
3. Now launch ODIN and connect your device to PC using the original data cable.
4. Once the device is connected to PC, the "ID:COM box" on ODIN windows will turn into blue and it will show you the COM port number.
5. After that, you need to "Unzip" the downloaded firmware file which is already in the last of the article. In extracted file, you will see a Home.tar file.
6. Now you will get a tar file. You just need to click on PDA in Odin (if Odin 3.09 choose AP) and choose the file ".tar"
7. After that, you need to check "F.Reset Time" and "Auto Reboot". Also, make sure that "Re-Partition" option is unchecked in ODIN window.
8. At last you need to click on the "Start" button in the ODIN windows and will start the flashing process. It will take few minutes to complete the flashing process.
9. Once the flashing process is completed you will see a "Reset" message and then "Pass". After this, your phone will automatically reboot. As it's a first boot it can take more time than normal, so don't get panic.
Note: Try not to unplug the USB cable while the flashing process is going on, your this little mistake can brick your phone.
Recommendation by Developer: Once you have flashed the official firmware on your device, you must try to hard reset your Samsung Galaxy S4.
In upcoming lines, you will find the link to download official firmware files for any variant of Samsung Galaxy S4 (GT-I9500 and GT-I9505). So choose the one for your device and continue the process.
List of Official Firmware files for Samsung Galaxy S4 (GT-I9500 & I9505)
Nordic Countries NEE 4.4.2
I9505XXUGNJ8_I9505NEEGNJ2_NEE
Baltic SEB 4.4.2
I9505XXUGNJ8_I9505OXXGNK1_SEB.zip
Germany (VD2) Vodafone 4.4.2
I9505XXUGNH7_I9505VFRGNH5_VD2.zip
Netherlands (VDF) Vodafone 4.4.2
I9505XXUGNE8_I9505VFGGNE2_VDF.zip
Austria (MAX) T-mobile 4.4.2
I9505XXUFNDG_I9505MAXFND1_MAX.zip
Netherlands 4.4.2
I9505XXUFNC4_I9505PHNFNC1_PHN.zip
United Kingdom (H3G) 4.4.2
I9505XXUGNJ3_I9505H3GGNJ2_H3G.zip
I9505XXUFNC5_I9505H3GFNC2_H3G.zip (Mega link)
I9505XXUFNC5_I9505H3GFNC2_H3G.zip (DEV-HOST link)
United Kingdom (VOD) 4.4.2
I9505XXUFND7_I9505VFGFND2_VOD.zip
United Kingdom (BTU) 4.4.2
I9505XXUFNB8_I9505BTUFNB3_BTU.zip
United Kingdom (EE) 4.4.2
I9505XXUFNBH_I9505EVRFNB3_EVR.zip
Nordic countries 4.4.2
I9505XXUFNB9_I9505NEEFNB2_NEE.zip
Germany 4.4.2
DBT-I9505XXUGNG8-20140805100601.zip
I9505XXUGNG2_I9505OXAGNG2_DBT.zip
I9505XXUGNF1_I9505OXAGNF1_DBT.zip (Build date: Thu, 05 Jun 2014)
DBT-I9505XXUGNF1-20140619102758.zip
I9505XXUGNE5_I9505OXAGNE5_DBT.zip (Google drive)
I9505XXUGNE5_I9505OXAGNE5_DBT.zip (Mega server)
I9505XXUFNB8_I9505OXAFNB8_DBT
Germany 4.4.2 I9505XXUFNB8_I9505OXAFNB8_DBT (Torrent mirror)
Germany 4.4.2 (Mediafire)
I9505XXUFNB8_I9505OXAFNB8_DBT
http://www.mediafire.com/?2i5a6bh7qjg132k
Netherland
I9505XXUEMK8_I9505PHNEMK5_PHN.zip
https://mega.co.nz/#!rEp1iRJT!KLo5dp…FsmZpuDQJMXJh8
I9505XXURMKF_I9505PHNEMK5_PHN.zip
https://mega.co.nz/#!jQoVSDJT!nksOcR…gDSLelLFvNKPPE
I9505XXUENA4_I9505YXXENA3_PHN.zip
https://mega.co.nz/#!KFAw3T7Q!vrZ5t6…K-xIsluFbHRP9I
Leaked stock 4.4.2
I9505XXUFNA5_I9505OXAFNA5_OXA.zip
https://mega.co.nz/#!yJ4z0C5a!ZxMSDw…hdjW7Mv9eriNiI
Spain
PHE-I9505XXUBMGA.zip
https://mega.co.nz/#!GYgSVagR!LGO6o0…nqC10N2fcDhwKY
http://d-h.st/dVR
https://www.dropbox.com/s/qhaxxzwxf5…0713113226.zip
Open European (4.4.2)
I9505XXUFNAD_I9505OXXFNA2_OXX.zip
https://mega.co.nz/#!ON4zTagL!WdK7ud…3eSaF8SKDcnsiQ
Hong Kong 4.4.2
TGY-I9505ZHUFNB3-20140317110000.zip
Norway 4.4.2
TEN-I9505XXUFNB8-20140312111247.zip
Switzerland 4.4.2
AUT-I9505XXUFNB9-20140305150215.zip
Singapore 4.4.2
MM1-I9505XXUFNBE-20140310152436.zip
Malaysia 4.4.2 XXFNBE
XME-I9505XXUFNBE-20140305160100.zip
Philippines 4.4.2 Sun Cellular
XTE-I9505XXUFNBE-20140305151852.zip
Brazil 4.4.2
ZTO-I9505VJUFNB2-20140305104104.zip
United Kingdom
I9505XXUENAA_I9505YXXENA7_BTU
I9505XXUEMK9_I9505VFGEMK2_VOD.zip 1.61 GB
I9505XXUEMK9_I9505H3GEMJ2_H3G.zip 1.43 GB
I9505XXUEMK9_I9505EVREMK1_EVR.zip 1.43 GB
I9505XXUEMK8_I9505O2UEMK1_O2U.zip 1.43 GB
Germany
I9505XXUEMKE_I9505OXAEMKE_DBT.zip 1.48 GB
Italy (Vodafone)
OMN-I9505XXUEML6-20131228111854.zip 1.62 GB
Ireland (three)
3IE-I9505XXUBMEA-20130601115837.zip 1.50 GB
Russia
SER-I9505XXUEML4-20131228111340.zip
France
XEF-I9505XXUEMKF-20131130113349.zip
Singapore
MM1-I9505XXUEML1-20131213161002.zip
Philippines
XTE-I9505XXUEMKE-20131212184031.zip
Nordic Countries
NEE-I9505XXUENA4-20140123112432.zip
Norway (Telenor)
TEN-I9505XXUEML6-20140120102352.zip
Australia
XSA-I9505XXUEMK9-20131212101727.zip
Brazil
I9505VJUEMKE_I9505ZTOEMKE_ZTO.zip
Poland
I9505XXUENA4_I9505YXXENA5_XEO.zip
Switzerland
I9505XXUENAA_I9505YXXENA7_AUT.zip 1.81 GB
Turkey 4.4.2
TUR-I9500XXUFNF3-20140714103843.zip
Russia 4.4.2
I9500XXUFNE7_I9500SERFNB3_SER.zip
In case, you're looking for official firmware file for a special firmware you can start the conversation at official thread started by the developer.
So what are you waiting for guys, Why don't you give a try to this guide and let me know, if you have any query related to this guide