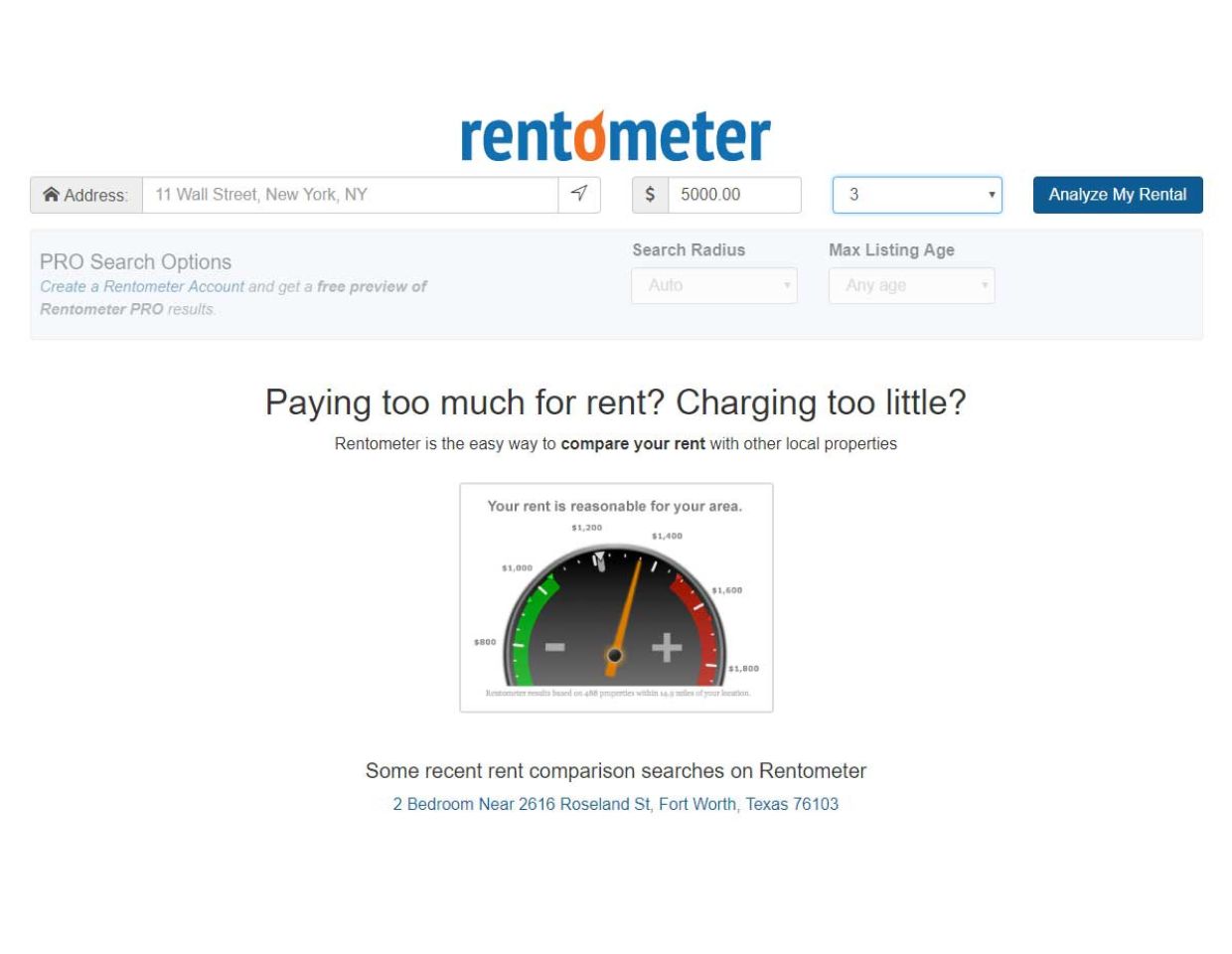 Have you ever wondered whether the price you're paying for rent is too high? In the past, you would have had to do a lot of research to find out how other apartments or properties in your neighborhood are priced. Thanks to Rentometer, comparing rents is now a quick, easy process. In this article, we'll walk you through the process of finding the average rental rate for homes in your area using Rentometer.
Rentometer's homepage
Rentometer's homepage allows you to enter your address, your rent, and the number of bedrooms in your house or apartment. For the sake of this article, we'll use a Wall Street address in New York City. We'll pretend it has three bedrooms, and that we're paying $5000 per month. After entering the info, we clicked Analyze My Rental.
Rentometer rent analysis
Rentometer compares data from other rentals in your selected neighborhood, and gives you an analysis. You'll see the average and median rents for apartments like yours, as well as information about how these statistics were calculated. In this case, the site used data from 14 3-bedroom rentals in a 0.29 mile radius:
Each rental used in the analysis is represented by a small vertical bar on the map. When you hover your mouse over any of the vertical bars, the rent for that unit is displayed:
The analysis page also shows you select rental listings in the area, as well as service providers for the area.
All of this information is available for free, without having to register, pay, or provide any information. But the site also provides a registration option, and we'll take a look at that next.
Rentometer registration
When you visit the signup page, you'll see that there are three levels of membership: Basic, Pro Lite, and Pro:
The Basic membership is free, and doesn't require a credit card to be on file. It includes 10 rent analysis reports with map presentations.
The Pro Lite level costs $99 per year or $15 per month, and includes rent analysis reports, map presentations, detailed property lists, last listing date, the ability to filter by age of listing, and a professional print formula.
The Rentometer Pro membership costs $199 per year or $29 per month. It includes all of the features of the Pro Lite level, plus custom report branding, CSV export, square footage, ability to filter by radius or distance, building type, and number of bathrooms. The Pro level also includes pro analysis reports, with 1-4 bedroom units on a single report, up to 250 data points per unit type, a larger radius, and a neighborhood interface.
Rentometer Pro
When we visited the site, Rentometer was running a promotion promising three free pro reports when you sign up for the free version. We decided to give it a shot. We signed up, and got a confirmation email. It's necessary to activate your account through the confirmation email before using the site. Once our account was active, we searched the same address as before: 11 Wall Street, New York, NY. We got all the info that was provided in the free report, plus some additional details about specific listings in the area:
The free pro report didn't entitle us to some of the other features included in the pro membership, like the ability to filter by radius or distance.
Rentometer widget
The site offers a nifty solution for webmasters running real-estate related sites: a widget where users can search for rental rates in any US zip code:
You might also like:

The Best Rainmeter Skins and Themes of 2017
Resources and articles
We love the resources that the site provides for renters, landlords, and investors. The site publishes new articles every few days, and sometimes more often. With titles like "How to use Rentometer to make sure your rents are competitive", "5 Things to Consider When Setting Your Rents", "A Beginner's Guide to Real Estate Investing Strategies", and "7 Things Renters Can Do to Build & Maintain Positive Credit", there is lots of valuable reading on this site.
Where does Rentometer get its data?
It's not totally clear. Here's what the site says in the FAQs section:
"Rentometer collects rental listing data and rent data from a variety of sources including: bulk syndicated data, our proprietary rental data survey, and user generated input and listings of rental data. We're always researching and looking for new data sources and are in the process of developing several additional sources that will come on line over the next few months."
We're guessing those sources include MLS listings, Zillow, listings submitted by the site's users, and others.
Similar sites
We haven't found another site that makes rent comparison quite as easy as Rentometer does. Other sites that give real estate information include:
Zillow.com
Hotpads.com
Zilpy.com
Rent.com
HouseingMaps.com
Craigslist.com
Is there a Rentometer app?
Yes! Rentometer recently released an app for iOS and Android called Rentometer Express. Check it out here.
How accurate is Rentometer?
It depends on what you're using it for. If you're using it to find the average rental rates in your area, we think it does a pretty good job. We went to some other real estate sites and crunched some number manually to create average rents for different areas, and our averages matched up pretty closely with Rentometer's. If you're using the site to find a new apartment, we think you should also use some other sites, as Rentometer's listings seem to be primarily generated by Rentometer's users. There's nothing wrong with that, but you'll likely find a broader range of listings elsewhere.
One user had this to add:
"I'd give it another vote for being pretty accurate, at least when I use it for my market. Like a lot of people I use it along with craigslist listings and feel that together they give me a pretty good picture of market rents. Just to give an example of how I adjust from the average I get from rentometer: in my area I feel that there is a slight premium people will pay for a 2-bed duplex, and an even bigger premium renters would pay for a 2-bed SF. Rentometer does not differentiate between those and a 2-bed in an apartment building – so I factor that in when evaluating my duplex units using rentometer."
Conclusion
Rentometer is a nifty newish site with lots of current value and lots of potential for future offerings. Check out Rentometer here.