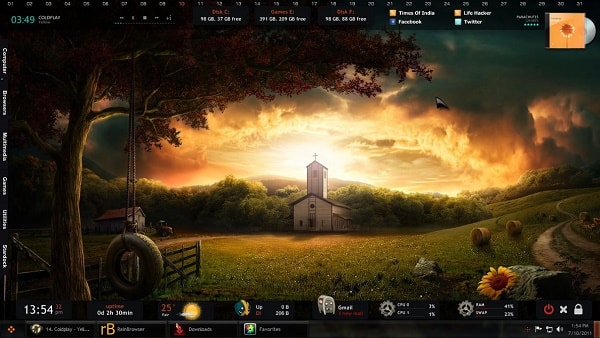 Creating a list of top, new, and best Rainmeter skins, Rainmeter themes, and Rainmeter Visualizer assests is one of the toughest things to do, but after searching web sources, forums, and the deviant art repository, I'm able to present this list to help users who are desperately looking for themes and skins to customize their Windows desktop. Looking specifically for system monitor skins? Check out The 5 Best Rainmeter System Monitor Skins.
Rainmeter is one out of the best desktop customization tools available on the web that gives life and an attractive look to your desktop. With over thousands of themes and Rainmeter skins, you can style your desktop the way you want. It's not just about giving a new look to your desktop, but also helps you to provide a productive environment. Rainmeter displays different customizable skins including battery power, memory, RSS feeds, weather forecast, and lots more. This helps users to keep track of system health, the weather outside, taking notes, tracking the latest news, and a lot more right on your desktop.
Day by day these Rainmeter skins and themes are getting smarter, and credit for this goes to the team working for Rainmeter. Now after reading all this, one thing which hits the mind is, where to get themes and skins for Rainmeter? Actually, there are lots of sources available over the web to download best Rainmeter desktop skins and themes including Deviantart, Rain meter forums or simply search Google for places to grab some cool and awesome skins and themes according to your taste.
In case you want to know about more desktop customization software's like Rainmeter, then check out my this article on best desktop customization softwares.
How to Install Rainmeter Skins and Themes
Installing the Rainmeter software is very simple. Follow these steps:
Download the Rainmeter software here.
Follow the instructions to install it on your computer.
Download any of the themes from the list below, and you'll be all set!
Best Rainmeter Skins and Themes for Windows 10
In case you're a lazy creature and don't want to go through these sites, then you can also check this list of some of the new and best Rainmeter skins and desktop themes of 2017.
1. TECH-A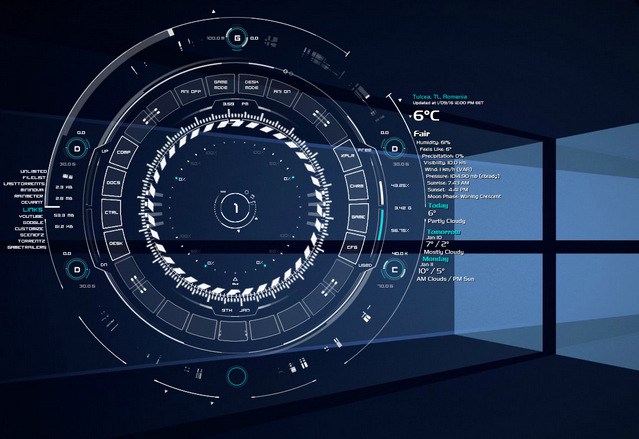 This is a futuristic rain meter theme with the windows logo in the background. It is not only stylish but highly functional too. Displaying information on CPU usage, time and date and a handful of useful shortcuts. Download it.
2. Senja Suite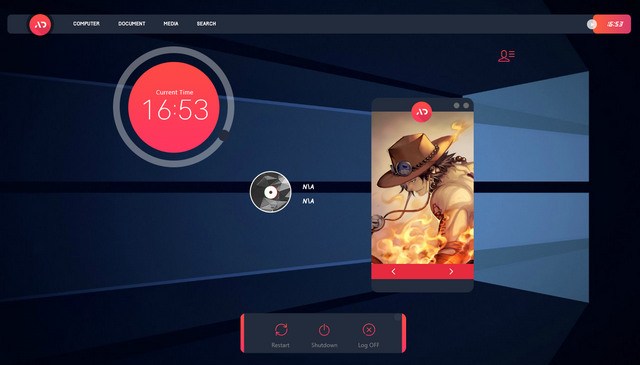 If you are a fan of One piece the anime TV series, you will love this one. It features a nice image of Fire Fist Ace and of course you are more than able to swap out this slideshow image with whatever you deem fit. Download it.
3. ALIENS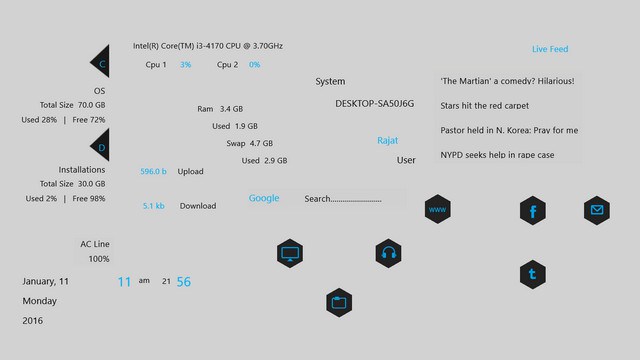 This theme is a bit more clutter than what I personally like, but it displays a few useful information like upload and download speed and a glance. Fast access to shortcut folders, time and date and much more. Download it.
4. Neon Space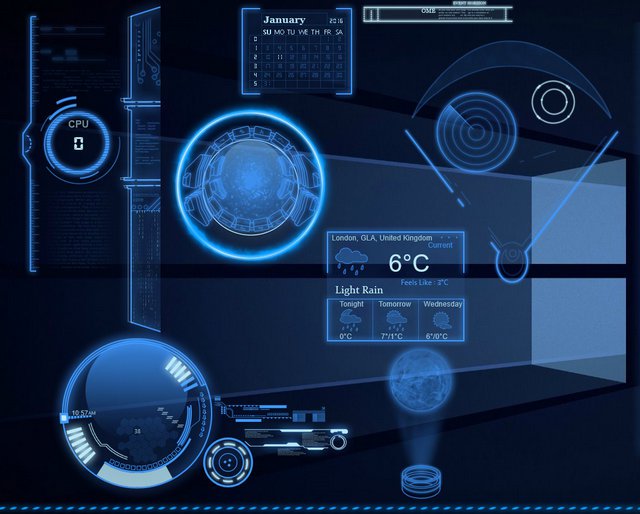 Get ready to blast off into space with this skin. It comes with a nice hologram effect of a planet, solar system, calendar, CPU usage and more. Download it.
5. Newspaper Desktop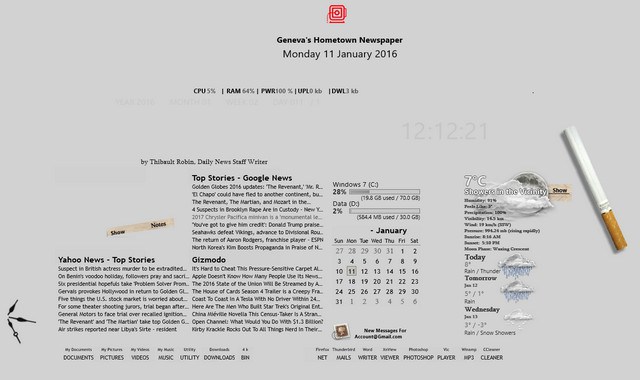 If you enjoy reading the newspaper daily, then this is an interesting one to consider. As the name suggests, it's a newspaper layout with displays the latest news from your favorite site. It as other useful utilities like Ram usage, time and date.
6. Windows 9 Single Mark 4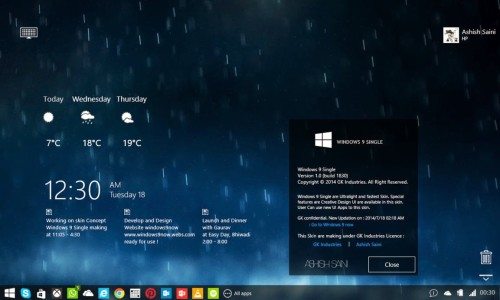 Windows 9 Single is counted as one of the best Rainmeter skin out of other Rainmeter skins available. This one is totally based on Windows concept which will make your desktop look amazing. Download it.
7. Windows 2019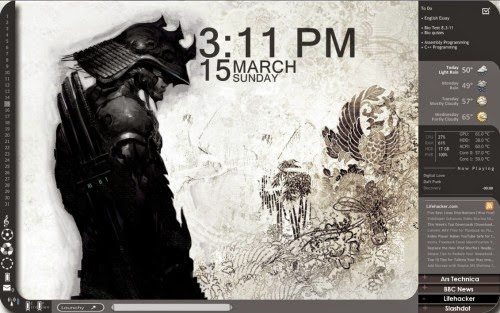 Windows 2019 is inspired by Microsoft Research video which shows how Windows interface might look like in 2019. The skin features informational bars and squares which make this concept that will give killer interface to desktop. Download it.
8. Darkness Fall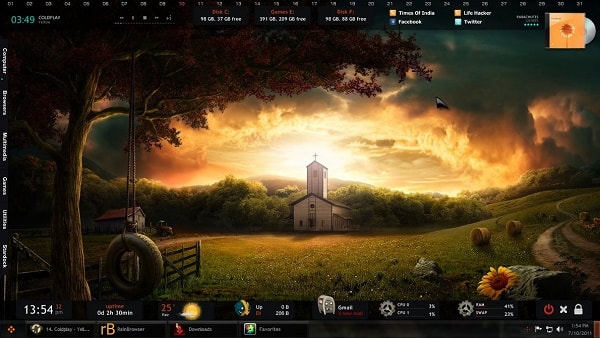 Darkness fall is amazing Rainmeter theme developed for Windows 7 featuring amazing landscape which adds beauty to your desktop. To make this awesome skin developer used different popular apps. Download it.
9. Pog Pack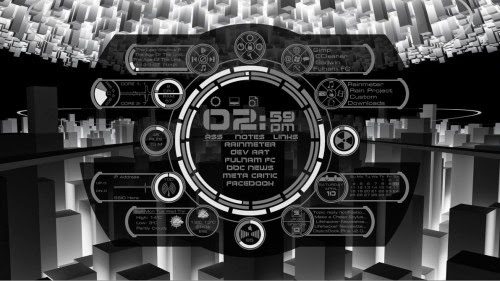 Pog Pack is just a refined skin of developers own rainmeter suite i.e. Cosmetal suite which is very easy to customize. This skin has 10 variables that you can change to control the look of the skins. Download it.
10. Adian Bolon Aero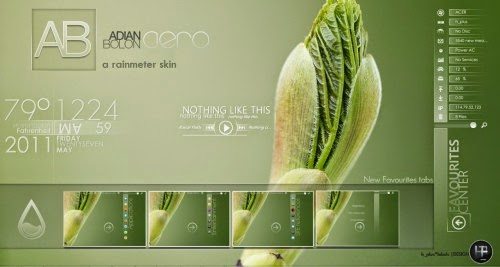 Adian Bolon Aero is another good rainmeter skin that helps you to customize screen. This skin can be used to launch your favorite apps, view local time, and control your multimedia player. Download it.
11. Taboo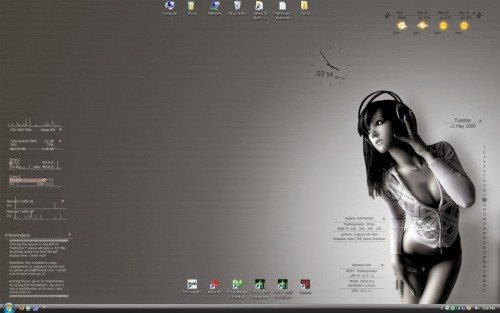 If you're are searching Rainmeter skins in the black and white background then you can go for taboo. It also has additional skin package out of which each of them is independent of dynamic placement. Download it.
12. My Rainmeter Desktop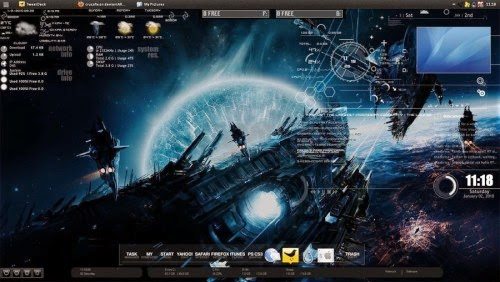 My Rainmeter desktop is another Rainmeter suite that will decorate your desktop. It is specialized with space war wallpaper by Alexxrafael.This skin is featured with circle clock, circle HDD, circle network etc. Download it.
13. Space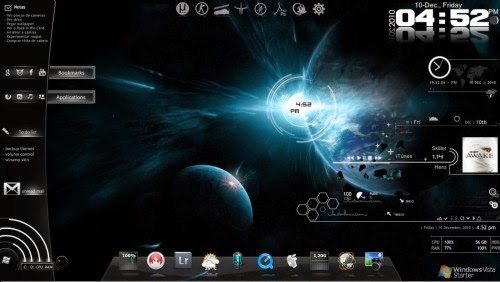 This is an awesome Rainmeter skin; here you can choose colors of your choice. This includes several features like 3 cool audio visualizers, easy setup, 8 new skins, all skins updated, less ram usage and much more. Download it.
14. Horde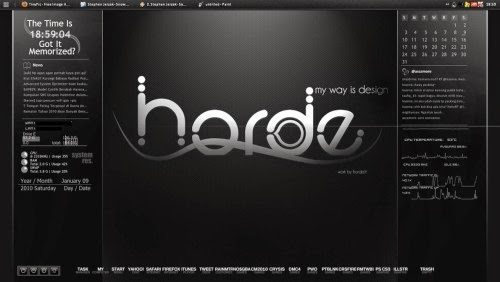 This is another rainmeter skins having dark wallpaper by horder. It consists enigma taskbar, enigma twitter, enigma reader, enigma RSS reader, enigma network and enigma address line along with circle system resources and kingdom heart memorized clocks. Download it.
15. Switchin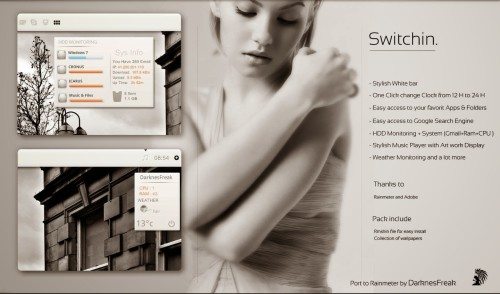 Switchin is a stylish rainmeter skin with the white bar. It has easy access to your favorite apps, folders, and Google search engine. Its specialized with one click clock change from 12 to 24 hour, weather monitoring and much more. Download it.
16. Ekar Lina Rainmeter The Skin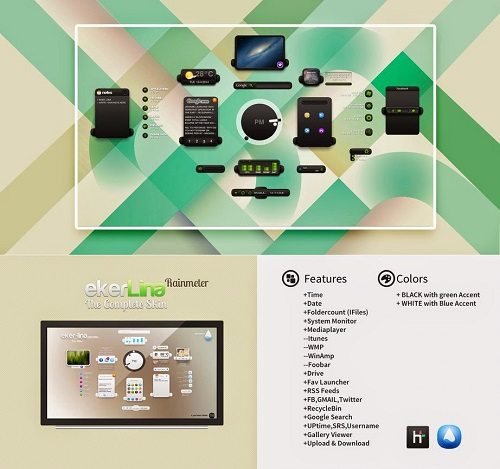 Ekar Lina is a beautiful rainmeter skin of black with green accent and white with blue accent. This is featured with time, date, folder count, media players, drive, fav launcher, Facebook, Twitter, Gmail and much more. Download it.
17. MoonGlow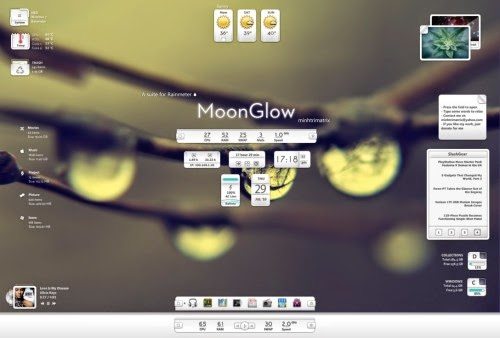 Moon on the rainmeter skin is a new skin which can measure your system temperature. This shows usage percentage of CPU, RAM, SWAP, Gmail messages. It is available in two versions x86 & x64. Download it.
18. Before Dawn RM Bar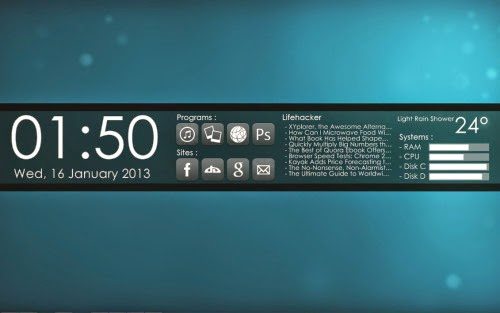 Before Dawn RM Bar spans a neat banner across the window with some basic info's on system resources, with current date and weather conditions, anas well as RSS feed and quick access to most used site and apps. Download it.
19. Morph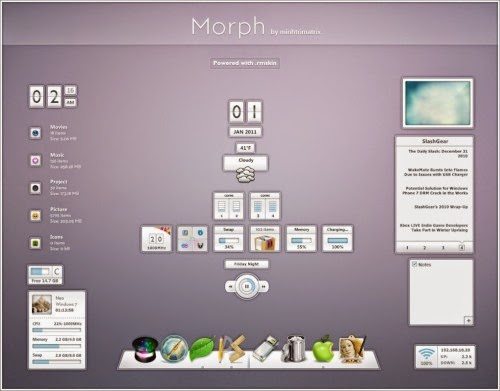 Morph is simply amazing rainmeter skin that makes the appearance of your desktop beautiful. Download it.
20. Razor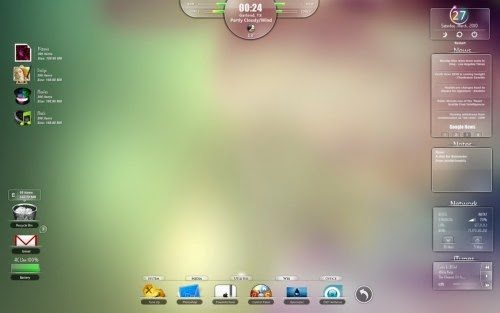 Razor is a slick, modern theme the keeps you organized at a glance. Download it.
21. Orange Glow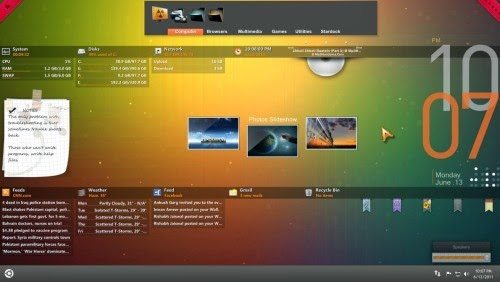 Orange Glow rainmeter skin is a pretty good with significant appearance highlighted with orange color. It includes icon packages, window displays, clock, date, CD art display, weather and many more. Download it.
22. Raleway Skin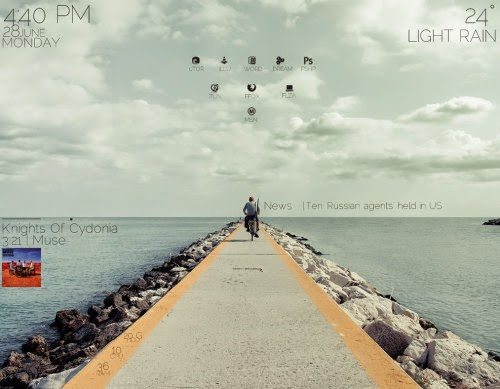 In this, all the variables are stored in one file in variables folder and color or font can be easily changed at once. It also displays album art. Download it.
23. Elegance 2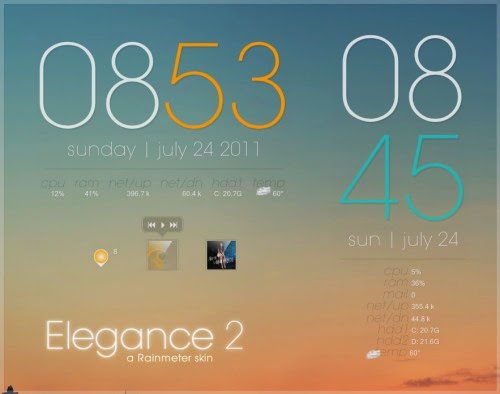 Elegance 2 is more elaborate and polished version on elegance. This includes color changer and configuration tools for easy customization and setup. The color changer alters accent colors with one click. Download it.
24. SimpleDOCK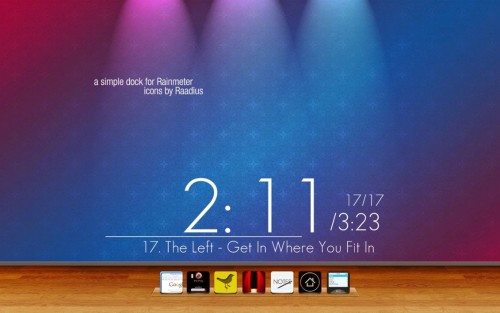 Simple DOCK for rainmeter is very useful skin and its concept is simple and amazing. The great thing about this skin is that you can easily change DOCK and icons. Download it.
25. Meteor Glimps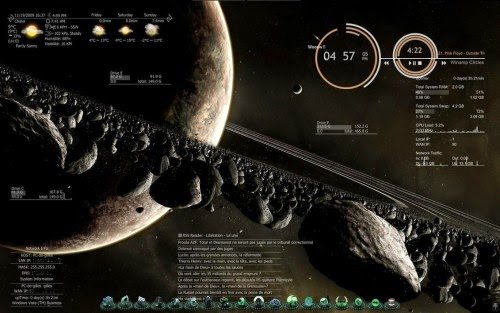 Meteor Glimps is an amazing rainmeter skin with Winamp circles, digital circles, a flying saucer to switch off, rocket docks sublimes icons. Download it.
26. Enigma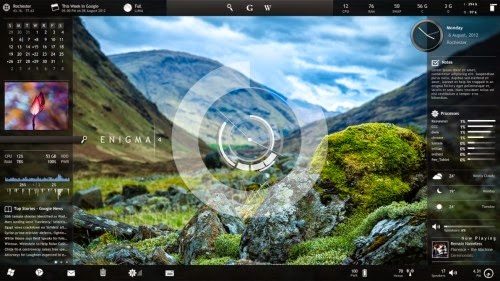 Enigma is a neutral, minimalist design which goes well with variety of wallpapers, themes, and color schemes. It's a library of different desktop gadgets which can be arranged and customized in the way you want. Download it.
27. Speed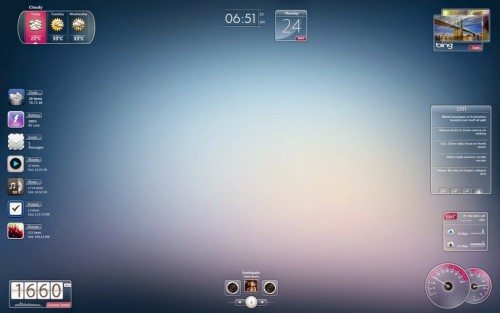 Speed rainmeter skin is just simple and beautiful. It holds WiFi statics, clock, speed, messages and many more. Download it.
28. Futuristic Cityscape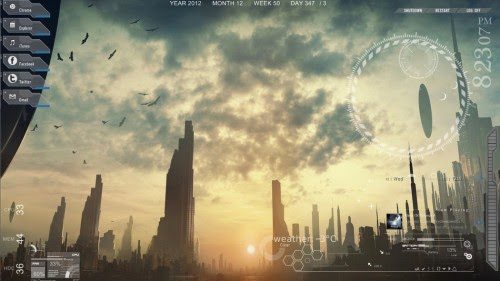 This a different type of rainmeter in appearance, it looks like reality on screen. It also includes explorers, Facebook, Gmail, Twitter, Shut down, Log off, Restart buttons also. Download it.
29. Big Digital Clock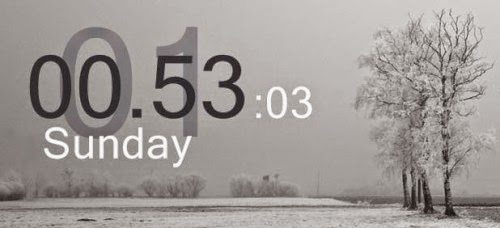 This is a digital clock using the ISO 8601 having standard minutes and seconds. It also features weekdays and no. of weeks. It is also possible to get no. of days in a week in this skin. Download it.
30. Vcloud Weather 2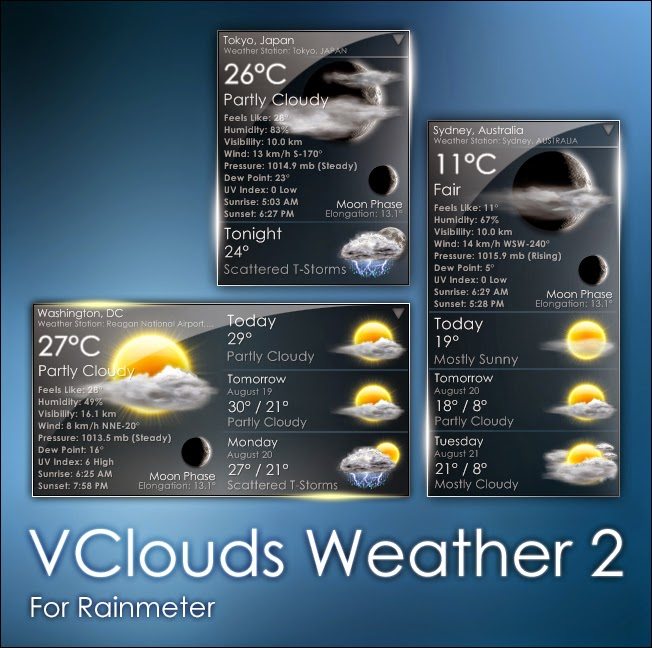 For this skin, it is important to have rainmeter v3.0 or higher. The specialty of this skin is, it is available in 17 languages with semi-transparent background. It includes 12 vertical and 3 horizontal variations. Download it.
31. LIM!T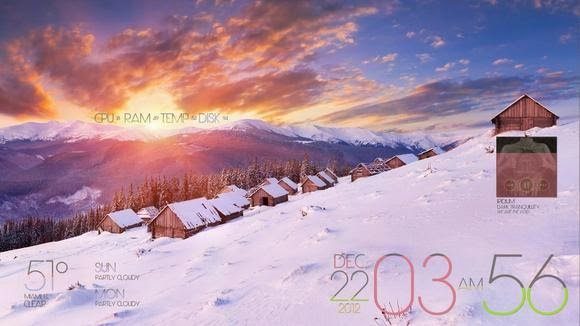 It is a very simple skin suit in which texts fills up as its values grow up. The present weather condition is shown in texts and is filled by 3 bars. ItusesCore Temp for CPU temperature reading. Download it.
32. Start Menu for Rainmeter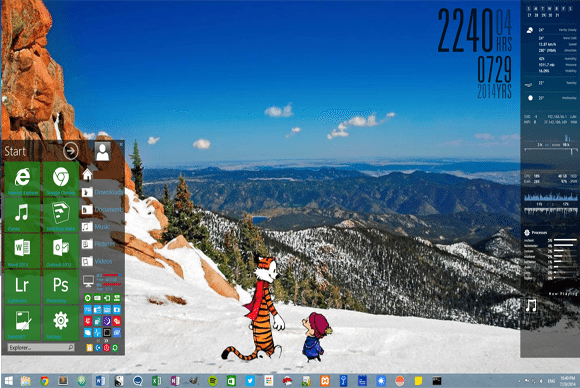 This rainmeter is designed for start menu especially of Windows 8.It runs perfectly on the other rainmeter also. Download it.
33. Sunset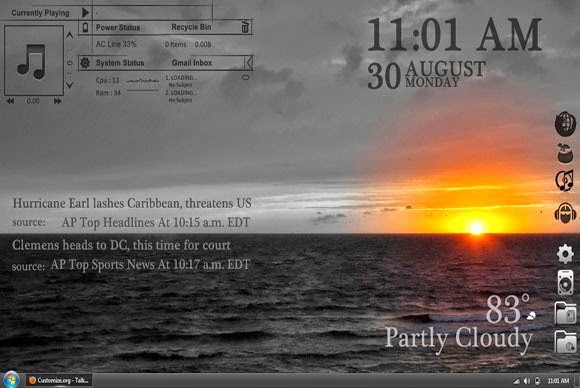 It is an option skin with an app launcher, clock, calendar, Facebook RSS reader, recycles manager, Taskbar, Gmail etc. Download it.
34. Avenger SHIELD OS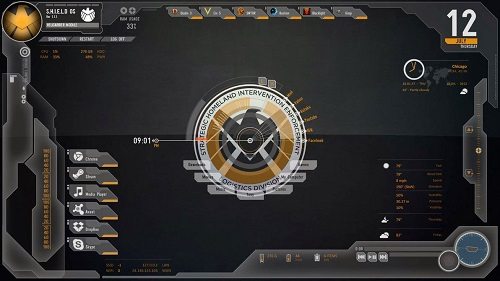 Avenger SHIEL OS is a special rainmeter skin in which different wallpapers can be used. In this you can change personal icon image and LLET/SLT names. Download it.
35. Electric Space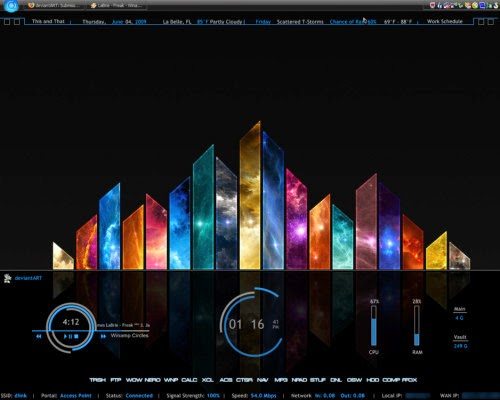 Electric Space rainmeter is somewhere specified by its name only, its appearance is slightly like something in space. It includes date, weather, wireless info, network and IP info. Download it.
36. Eye of Sauron Rainmeter Skin
If you're a Lord of the Rings fan, you won't want to miss this one! The eye of Sauron follows your mouse wherever it goes. Download it.
37. Wisp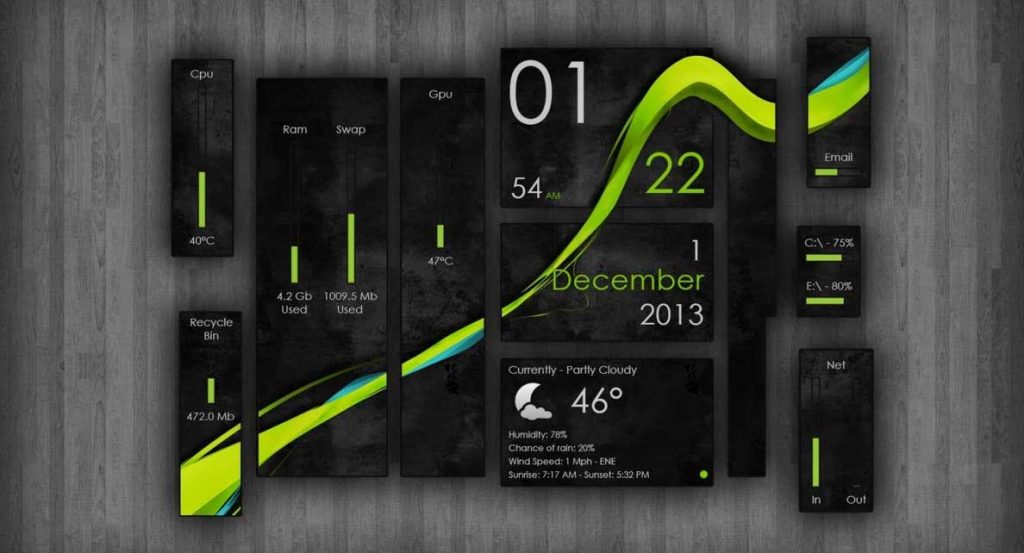 Wisp is a beautiful, sleek system monitor skin. Download it.