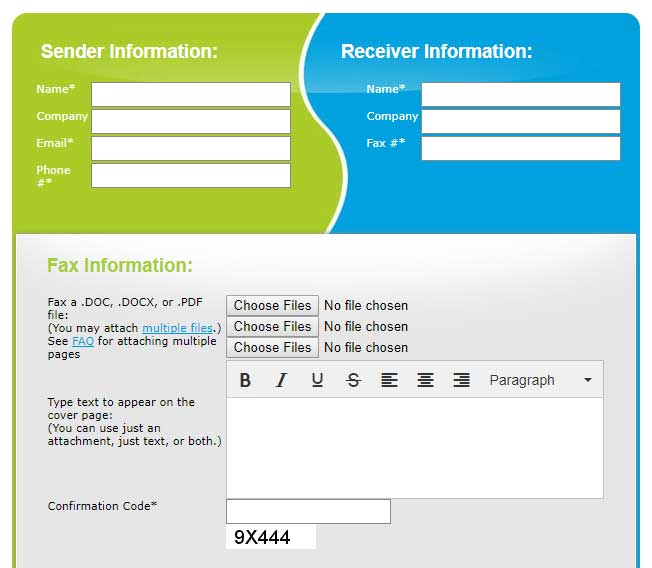 FaxZero (sometimes also referred to online as Zerofax) has been around for years (since 2006, according to Whois info) promising free faxing to anywhere in the US and Canada. So what's the catch? Read on for an in-depth review of Fax Zero services, and what this company does and doesn't offer.
FaxZero: The Catch
The catch isn't really a catch – FaxZero is able to provide free faxes to the US and Canada thanks to advertising. This advertising appears in two forms: ads on the Fax Zero website, and a branded fax cover page that contains the company's logo. So your free fax really is free, as long as you're okay with the logo appearing at the top of your fax. Check out an example of what your cover page will look like here. We think this is a great deal. For most purposes, a logo at the top of the cover sheet isn't a problem.
How does free faxing work?
All you need is a valid email address and a digital file to fax. Fill out the fax form (see the screenshot below) with sender and receiver information. Attach your digital file or files (up to three files are accepted). Type whatever text you want to appear on the cover page, and format it if you'd like. The fax form provides a variety of basic formatting options, including bold, italic, underline, strike through, and various justification and heading options. Enter the confirmation code and select "Send free fax now". You'll need to check your email next. Open the email from FaxZero and click the link to complete the sending of your fax.
FaxZero will send you a confirmation email when your fax has been delivered. If for some reason your fax doesn't go through, Fax Zero will send you an email telling you that, as well.
Is FaxZero Safe? Is FaxZero Secure?
Here's what FaxZero says about their security protocol:
All user information are encrypted and submitted through HTTPS protocol to our server. All outbound communication from our server are secured with either SSL or TLS. We keep our server softwares up to date to prevent any known exploits. Our security is up to the best of industry standards.
FaxZero stores data about the faxes (sender e-mail address, destination fax number, etc.) indefinitely. FaxZero will not share your information, nor information about the people you send faxes to, with marketers or anyone else, unless compelled to do so by court order or subpoena. The content of the faxes is only stored as long as necessary to provide the service and perform subsequent diagnostics. In all cases, fax content is deleted within three days of transmission.
This is pretty decent security, we think. We wouldn't advise sending sensitive info like social security numbers via any sort of fax, though. Think about it – even if FaxZero is completely secure (and not just FaxZero – this applies to whatever fax service you happen to be using), your information prints out on a piece of paper on the other end. Do you really want your social security number there on a piece of paper for whoever happens to be near the fax machine to see?
What if I want to send more than three pages?
No problem! You just can't do it for free. Fax Zero allows you to send up to 25 pages for $1.99, payable via PayPal. The $1.99 fee also removes the branding from the cover page, so this is the option to pick if you really need to send a fax without the FaxZero logo.
What about faxing to countries other than the US and Canada?
You can do that, too! Again, you just can't do international faxing for free. Prices vary depending on which country you need to send a fax to, and Fax Zero provides a list of countries here. Click on any country to view the rate.
Conclusion
We think this is a great deal, particularly for people who don't need to send faxes often. If free branded faxes and the occasional paid $1.99 fax will accomplish what you need, why pay to own and maintain a fax machine? We love FaxZero!
Want to check out some other free fax services? Take a look at GotFreeFax, FaxBetter (free version), eFax (free version), PamFax, and MyFax (free trial).